how to promote skin care products on social media
In the highly competitive landscape of beauty marketing, it's well-known that the competition is fierce. Our skincare social media guide reveals the most effective strategies for beauty brands to shine and expand.
Cross-Promoting Beauty Products Across Social Media Platforms
Promote your beauty products across different social media platforms through cross-promotion. If running multiple giveaways simultaneously isn't feasible for your budget, consider utilizing Easypromos' Multi-Network Giveaway application. This tool allows you to organize a single giveaway across various social channels such as Instagram, Twitter, and Facebook, effectively engaging followers on multiple platforms.
Alternatively, if your primary objective is to enhance the growth of a specific social media account, explore the option of cross-promoting your brand on your most popular channels. Many brands redirect traffic to their new TikTok or Twitter accounts, leveraging cross-promotion as a strategy to increase visibility. Utilizing social media cross-promotion is an effective way to not only promote your beauty giveaway but also to enhance overall brand visibility.
Tap into the Youtube Advantage
Providing tutorials and educational videos is a powerful strategy for health and beauty brands. Consumers actively seek how-to guides, tutorials, and informative content related to the products they've bought or intend to buy. A prime example is Mac Cosmetics, which consistently shares makeup tutorials, weekly looks, and beauty tips on its YouTube channel
Capture Leads for Your Beauty Brand
While social media giveaways effectively promote your beauty products and engage your audience, comment sweepstakes have one drawback: you lack information about the participants. Imagine having the ability to send personalized messages, exclusive offers, or birthday discounts to your customers. It's time to transform your social media followers into valuable leads for your business.
Online users are cautious about sharing personal information, and earning their trust is crucial. Position your beauty brand as one of their most trusted choices by organizing transparent and accessible beauty raffles, giving them compelling reasons to willingly share their email addresses and names online
Skincare Product Evaluations
When it comes to skincare social media content, relying on product reviews is always a reliable choice.
Considering that 99.9% of consumers admit to consulting some form of review before making online purchases, reviews play a critical role in the skincare product landscape. They can either make or break a product's reputation. Customers are unhesitant to critique underwhelming products that fail to meet expectations, yet they are equally enthusiastic about praising products that genuinely transform their skin.
If someone gives your product a positive shoutout on-site or through a third-party review, seize the opportunity to showcase it in your social media content. It's a seamless way to repurpose user-generated content and reinforce the credibility of your brand.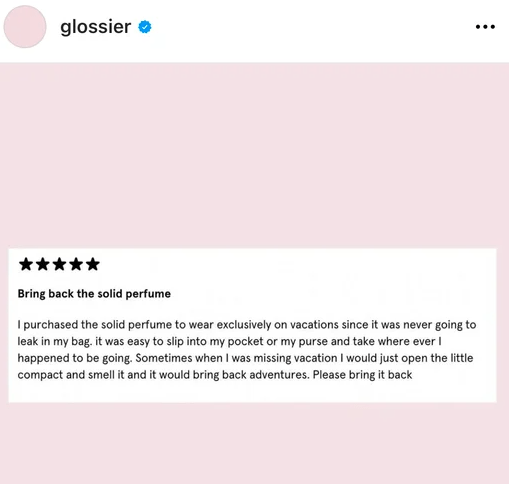 Skincare Marketing Case Study
B1/H3, MOHAN CO-OPERATIVE,BLOCK B, New Delhi, Delhi 110044
Copyright © 2023 HavStrategy